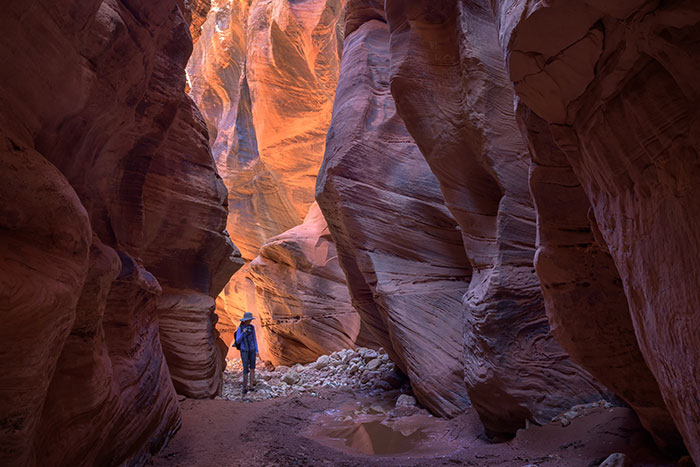 The Soul of The American Southwest
How do you describe a piece of your heart to another? Poetry, Prose, Music? Can you sit next to someone and project that feeling towards them, and somehow they feel what you are feeling? Perhaps it's impossible. Impossible to describe these deep feelings for land and country and place. To translate what flowers from lifelong experiences and emotions, whether you're born in a place and return to it, or the feeling of a place that's been quietly calling out for your entire life. Maybe you can bring them to those spots to start building their own experience, memory and love?
I wasn't born in Southern Utah and I didn't grow up there, but I did travel there as a child. Southern Utah has held several powerful moments during my life. Finding freedom and elation as fifteen year old, listening to Bob Marley ascending the switchbacks of Angel's Landing in Zion National Park. In my twenties, my adopted parents, lived on the border of Capital Reef National Park in a tiny 200 person town called Boulder Utah. An hour and a half from the nearest grocery store, 4 hours from a hospital, Boulder was the last place to receive the Pony Express Mail in the country. The seclusion and peace found in this place is a precious stone. Finally, I was married beneath the towering redrock walls of the narrows on a perfect fall day blasting colors of golden cottonwood leaves and warm winds. I remember one time, driving south after I hadn't been in a while. Once I'd reached it, I ran up a fingerling canyon and literally rolled in the sand like a chinchilla taking a bath. I needed the earth to ground my soul. This is how I feel about the deserts of the west.
     Lately I've been feeling the call again. But this time I want to dive deeper.  I'm taking a small group of people that are also feeling this call to the desert to visit everything the west has to offer. I want to visit the first peoples and explore their relationship in both soul and spirit to this land that keeps its water secret. The Hopi whom have lived here longer than maybe any other Native Americans dating back to 500 B.C.. They have always been a peaceful people and cherished and kept their religion and culture. Their medicine men passed down an oral tradition to nephews that takes years to memorize. Their language Is built upon a deeper knowledge and view of the world. A branch is not described as an entity unto itself, but as 'that which is branching from a tree'. It speaks to the truth and nature of things, that everything is connected and has affect on the world around it. It seems these traditional views and relationships with the land that many Indigenous peoples hold today is needed now more than ever.
Industrialization and biblical misinterpretation that the earth and its animals are here for us is systematically destroying the earth. Not only the earth but our relationship to it. It is strange being a white American. We feel like a lost people. Disconnected from traditional culture, family and history. Many Americans learn very late even their countries of origin. American children lost their traditions and languages. Their holidays are commercialized shells of what they once were. Food comes from factories and plastic is acceptable. We have been liberated from the shackles of tradition to make life of whatever we want to make of it. So there have been many benefits from this way of life, but we have lost so much in the process. I really feel that Americans and much of Western Civilization need tradition and Indigenous perspective of spirit and land.  The answer isn't dropping all of the benefits that modern society has brought us, but an integration, with traditions that bring us closer to ourselves.  And as much, the answer for Indigenous success is not the abolishment of all things western, but an integration. To keep culture and tradition sacred, but to move forward in the modern world to ensure the success of the tribe and its peoples.  I look forward so much to this deep dive.  Navigating the serenity of the Longest Slot Canyon in the World.  Visiting the Hopi People.  Camping with Cowboy Brothers and Sisters on Horseback through the National Parks.  Partaking in Sacred Medicine to deepen and explore our relationship to this beautiful land, its peoples and each other.  A collective journey of self exploration.